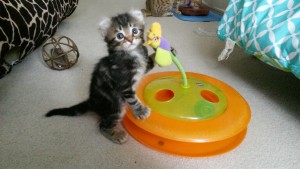 Deciding to ad a Highland Lynx, Highlander kitten or a Desert Lynx to your family, is one of the best choices you may ever make, according to our past buyers. And we do our very best to be certain you are adopting a healthy, gorgeous, loving kitten.
$200 deposit required on all kittens!!!
Below is a general guideline for understanding the prices of our kittens for sale:
-Highland Lynx pet prices are $800-$1000 Depending on color, markings, feet and tail.
-Desert Lynx pet prices are $550-$700 Depending on color, markings, feet and tail.
Breeding prices range from $1400 to $2000 to approved parties only.

We normally will not sell breeders.  
Making a Payment:
"IMPORTANT…PLEASE READ BEFORE USING": "PAY PAL" NOW AVAILBLE FOR YOUR CONVENIENCE: WE ACCEPT: VISA, MASTERCARD, DISCOVER, AMERICAN EXPRESS VIA PAY PAL. PLEASE NOTE THAT AN ADDITONAL CHARGE OF 2.9% IN THE USA AND 3.9% OUT OF THE COUNTRY (CANADA BUYERS) TO UTILIZE PAYPAL MUST BE ADDED FOR THEIR SERVICE CHARGES…SORRY, NO EXCEPTIONS…FOR EXAMPLE FOR A $100. FEE ADD $2.90 AND FOR A $600. FEE ADD $17.40. THANK YOU.
OTHER PAYMENT OPTIONS INCLUDE: MONEY ORDERS AND CASHIERS CHECKS. WHEN PURCHASING A KITTEN THAT WILL BE SHIPPED, PLEASE NOTE THAT ALL SHIPPING COST/INCLUDING VET CERTIFICATE/OFFICE VIST, ETC. WILL BE AT BUYERS EXPENSE. WE SHIP VIA- DELTA PETS FIRST "COD" SO INQUIRE ABOUT ANY COST OVER AND ABOVE PURCHASE PRICE PLEASE FOR VET COSTS. PLEASE ALSO BE ADVISED THAT NO CUB SHALL BE SHIPPED WITHOUT A SIGNED RECEIPT/CONTRACT RETURNED PRIOR TO POSSESSION. THANK YOU, SHERBOBS EXOTIC CATS.